The data center is the heart of every enterprise network, enabling the transmission, access and storage of all information. Here, cabling connects enterprise local area networks (LANs) to switches, servers, storage area networks (SANs), and other active equipment that supports all applications, transactions and communication. It also is where the LAN connects to service provider networks that provide access to the Internet and other networks outside of the facility.
As the amount of information and applications continues to grow, data centers are expanding their capacity to house increasing amounts of active equipment and more links than ever before while also needing to enable high-bandwidth, low-latency data transmission to and from equipment. Proper data center design involves maximizing space to allow for growth and scalability, making sure cabling pathways are manageable, improving efficiency and ensuring overall performance, reliability and resilience.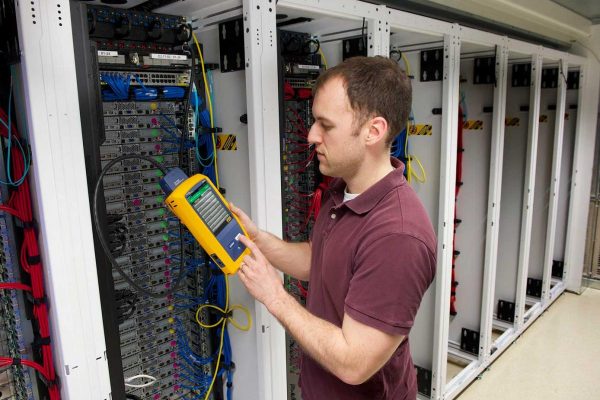 Solutions for data center professionals
Data center professionals are responsible for the storage, management, and dissemination of data and information, without interruption. It's a huge task in our data-reliant society and people count on the delivery of the information they need, whenever they need it. The professionals working in this critical business must be able to rely on their tools to keep things up and running.
Fluke makes a full suite of reliable, high-quality test and measurement tools that data centers can count on. We understand the challenges these professionals face every day. The decisions they make are based on the information their test equipment is providing. They can't make informed decisions if they can't rely on the data they're being given. They can be confident that Fluke tools will give them consistently correct information to do their jobs.